Some of the best Italian food is traditionally Vegan
 These are some of my favourite dishes, they are very tasty, effortlessly vegan and perfect for every occasion, from a dinner party to a buffet or a lunch treat. 
These dishes need to be booked
one week in advance, thank you.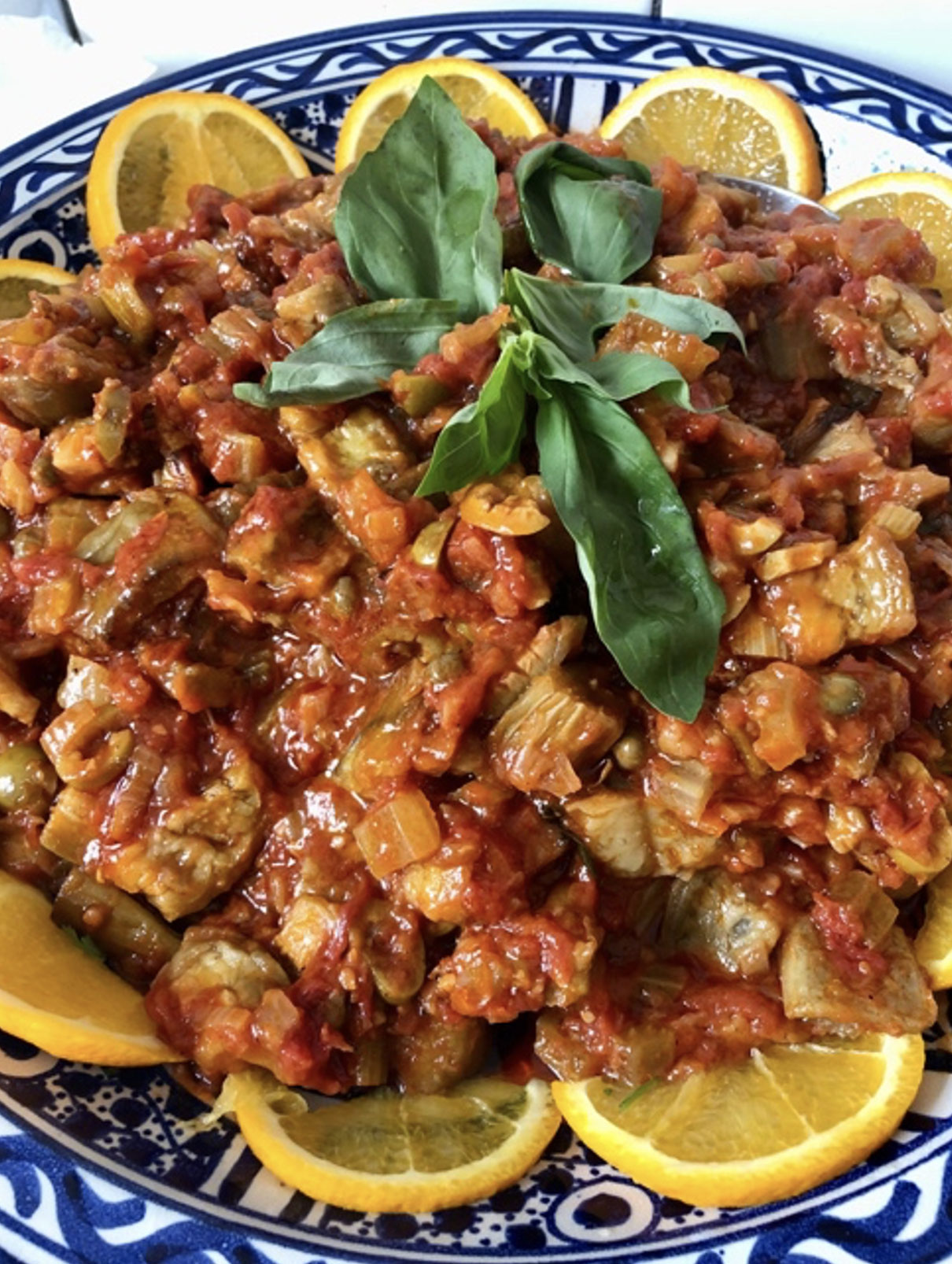 Canapés
Crostini
Crunchy morsels of bread baked in extra virgin olive oil and Sicilian oregano
Topped with:
Porcini Mushrooms and Sherry Topping made of dried porcini Mushrooms, Chestnut Mushrooms, shallots, dry Sherry and fresh thyme.
Aubergine Sauce
Aubergine sauce made with roasted aubergines, sundried tomatoes (these ones come from my mum and dad's garden in Massaciuccoli, Lucca), basil, roasted black olives and garlic.
Spinach
Spinach sauté in garlic and extra virgin olive oil
Starters
(These go very well served with homemade rosemary focaccia)
Chargrilled Aubergines with rosemary and chili
Thinly sliced aubergines chargrilled and dressed with white wine vinegar, finely chopped rosemary, garlic and a little chili and extra virgin olive oil.
Chargrilled Courgettes with garlic and mint
Thinly sliced courgettes chargrilled and dressed with white wine vinegar, fresh mint and garlic.
Roasted Yellow Peppers with capers
Yellow peppers roasted and dressed with garlic, fresh thyme, capers from my mum's garden in Massaciuccoli, Lucca.
Grilled mild whole green chillies with garlic and balsamic vinegar
These big long green chilies found often in Turkish restaurants, are pretty mild but sometimes you'll find one that is particularly fierce.They are absolutely moreish, in our house we can't have enough of them at the moment. Simply dressed with garlic, very good extra virgin olive oil and balsamic vinegar.
 'Scaccia' with Chards, pinenuts, currants and olives
This is my take on a Sicilian street food, scaccia,  very popular in the baroque town of Ragusa. It's a pie made with pizza dough and filled with swiss chard braised in shallots, roasted black olives, pinenuts and currants. 
Soup
Minestrone alla Milanese  
This traditional soup is very comforting and nutritious and is made with cannellini beans, savoy cabbage, carrots, courgettes, peas, onion, potatoes, tomatoes and fresh herbs.
Minestrone Toscano
This is a traditional and very earthy Tuscan soup from the Garfagnana area situated on the hills above Lucca. It is made with farro, an ancient whole wheat already in use in Roman times, cavolo nero, a type of cabbagewith dark-green, tightly curled leaves and borlotti beans.
Mains
Sicilian Stuffed Peppers
This is a very moorish dish, a Sicilian classic rich of sweet and sour Arab influences. Sweet peppers filled with breadcrumbs, olives, capers, sundried tomatoes, pine nuts, currants and basil and baked in the oven on a tomato, olives and basil sauce.
Suitable for home freezing
Vegan Aubergine Parmigiana
The classic Italian aubergine bake made with aubergines, basil, tomato, garlic, sundried tomatoes, breadcrumbs and pine nuts. This is a very tasty dish, not second in flavor to the Classic Parmigiana.
Aubergine Caponata and Butternut Squash  Strudel
Vegan Puff pastry filled with a layer of butternut squash , sautéed in shallots, sage, white wine and extra virgin olive oil, and aubergine caponata made with fried aubergines, tomatoes, olives, pinenuts and currants. Served with a homemade salsa verde made with basil, parsley and capers.
Mushroom, Chestnuts and Saffron Risotto Bake
Rice bake made with layers of  saffron risotto, a mushroom duxelle made with dried porcini mushrooms and Sherry  and crunched chestnuts.
Salads
Grilled Aubergines  and Chickpeas Salad
Grilled aubergines dressed with tahini sauce, pomegranate molasses, lemon juice, fresh coriander and fresh red chili served on a bed of chickpeas dressed with fresh lemon, fresh coriander, fresh chili, a little cumin powder and extra virgin olive oil.
Caponata
The traditional sweet and sour Sicilian dish of Arab origins made with deep fried aubergines dressed in a sweet and sour sauce of tomatoes, onion, garlic, basil, green olives, celery, capers, brown sugar and red wine vinegar.
Panzanella
A traditional Tuscan summer salad made with bread croutons baked in the oven with extra virgin olive oil and Sicilian oregano, fresh British tomatoes, cucumber, red onions, capers, red wine vinegar and plenty of basil and extra virgin olive oil.
Ratatouille Whole Wheat Salad 
A very tasty, wholesome and summery salad made with nutty whole wheat dressed with an oven baked ratatouille made with courgettes, peppers, carrots, red onions, black olives, parsley, lemon juice and plenty of extra virgin olive oil.
Pasta and Courgettes Salad
A fresh and summery pasta salad made with Farfalle dressed with a light basil pesto, slightly fried courgettes , toasted pine nuts, currants, lemon zest and fresh basil leaves
Quinoa, Pomegranate and Orange Salad
Quinoa dressed with orange juice, zest and orange segments, pomegranate, avocado, spring onions, rocket and flakes almonds,
Pasta Sauce
Tomato and Basil Sauce (Vegan)
Classic tomato sauce with garlic, basil and extravirgin olive oil
Pizzas and Focaccias
Rosemary Focaccia
This focaccia is topped with fresh rosemary, sea salt and extra virgin olive oil.
Olives Focaccia
This focaccia is topped with black olives, sea salt and extra virgin olive oil. 
Cherry Tomato Focaccia
This focaccia is topped with cherry topmato, sea salt, sicilian oregano and extra virgin olive oil.
Onion Focaccia 
This focaccia is topped with slow cooked white onions, thyme and extra virgin olive oil.
Focaccia with black grapes
This focaccia is,made with dark grapes and brown sugar.  It is very popular during the autumn season, when the grapes are fully ripe, where I come from, in Tuscany. It's more like a sweet snack than a dessert and goes very well with a small glass of new or sweet wine.
Focaccia with figs and grapes
This focaccia, inspired by the Tuscan "schiacciata con l'uva", is made with figs and grapes which are plentifully in season at the moment and is delicious eaten with a slice of Pecorino, Manchego  or any other mature hard cheese and a glass of red wine.
Pizza Marinara
(This pizza is a traditional one from my home in Massaciuccoli, near Lucca. It is very simple, very thin and very garlicky!)
Topped with tomato sauce, Sicilian oregano, chili, garlic and extra virgin olive oil.
 Pizza with Peppers, olives, capers and Sun dried Tomatoes
Topped with tomato sauce, Sicilian oregano, peppers, olives, sundried tomatoes, capers, chili, garlic and extra virgin olive oil.
Desserts
Chocolate Mousse 
Silken tofu is the main ingredient in this smooth, creamy and totally plant-based chocolate mousse. It's just as indulgent and delicious as the classic version. Topped with fresh raspberries.
Fruit Salad
Green melon, raspberries, fresh mint and freshly squeezed  lime, perfect to clean the palate
To place an order or make enquiries,
please send an email to info@bettisfood.com
or call Betti on 07813171050.
THANKS!