BETTI'S TAKEAWAYS
Place your order by Tuesday evenings and I will deliver on Fridays between 4pm and 6pm 
Free delivery in Crouch End N8, £5 for close areas in North London
Food comes with cooking and storage instructions and a list of ingredients and allergens
Place your order to:  info@bettisfood.com
Homemade Italian goodness delivered to your door
If you are tired of the usual high street Takeaway and fancy something more comforting and home cooked, here are some very tasty options for you. 
Please state in the contact form any dietary requirement or allergies that must be catered for on your order.  Some dishes may contain or have traces of nuts and seeds or may have been made alongside other products containing nuts and seeds.  Betti's cannot be held responsible for any issues resulting from food allergies.

 Gluten Free    
 Vegetarian    

 Vegan    

 Dairy Free
Lasagna with Beef ragù
 Traditional homemade meat Lasagna made with a ragù of British Beef, béchamel sauce, nutmeg and 36 months aged  Parmesan cheese.
 Suitable for home freezing 
 £36 tray serves  6-8 portions
£24 tray serves  4-6 portions
 £7.00 tray serves 1-2 people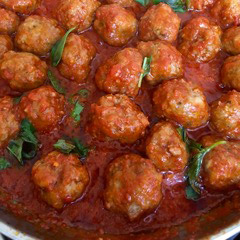 Meatballs
 My mum's meatballs made with British beef, thyme, parsley, garlic, parmesan cheese and nutmeg, fried and then coated in a tomato sauce with plenty of basil and capers from my mum's garden near Lucca. 
Suitable for home freezing 
 £6.50 per portion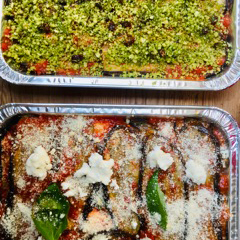 Parmigiana Classic and Vegan
   
 The classic Italian Aubergine Bake made with grilled aubergines,  tomato and basil sauce, mozzarella and plenty of parmesan cheese. And an equally tasty Vegan version with grilled aubergines, tomato and basil sauce and sourdough breadcrumbs flavoured with sundries tomatoes, olives, currants, capers, basil and pine nuts
Suitable for home freezing
£36 tray serves 6-8 portions
£24 tray serves 4-6 portions
£7 tray serves 1-2 portions
Courgette Tart
A very delicate and light Tart from Parma made with lots of courgettes and onions, delicious ricotta cheese from an Italian producer and plenty of parmesan, wrapped in shortcrust pastry.
 Suitable for home freezing 
 £33 tray serves 6-8 portions
 £22 tray serves 4-6 portions
 £6 .50 tray serves 1-2 portions
Pesto and Asparagus Lasagna


Lasagna filled with béchamel sauce, plenty of Parmesan cheese, homemade pesto and fresh asparagus.
Suitable for home freezing 
£36 tray serves 6-8 portions
£24 tray serves 4-6 portions
£7 tray serves 1-2 portions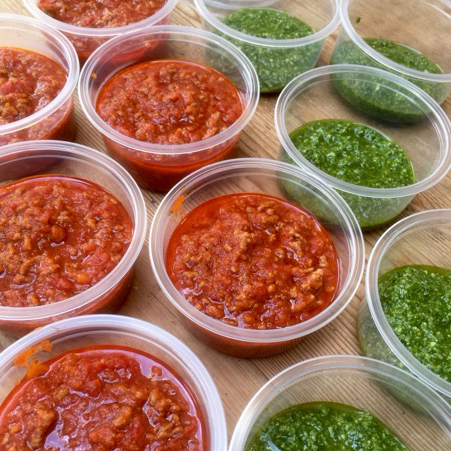 Pasta sauce Pots
Traditional Beef Ragù
  £5.50 for 2 portions pot    
Basil, Pinenuts and Parmesan Pesto    
£5.50 for 2 portions pot 
Tomato and basil Vegan 

£4.50 for 2 portions pot
Suitable for home freezing 
CONTACT BETTI
Please us the contact form to
place orders or make enquiries