Betti's dinners can start with a  few canapées (see Betti's Canapés), followed by antipasto misto with homemade focaccia; a beef fillet 'Tagliata' on a bed of rocket and parmesan cheese and to finish a Tuscan fruit tart, made with fresh nectarines and homemade plum jam.

All food comes with cooking, reheating and storage  instructions, a list of allergens and ingredients
Please state any allergies in writing in the order form, thank you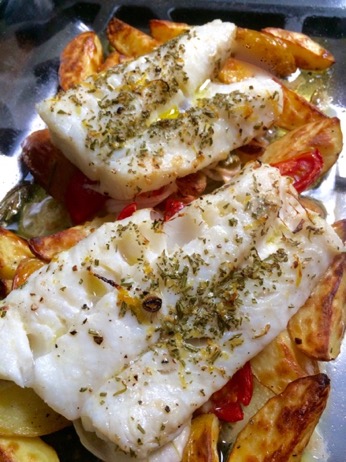 These dinners need one week's notice, Thank you!

 Gluten Free    
 Vegetarian    

 Vegan    

 Dairy Free
STARTERS WITH
HOMEMADE FOCACCIA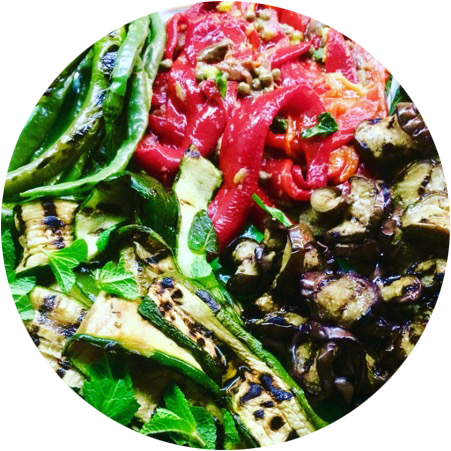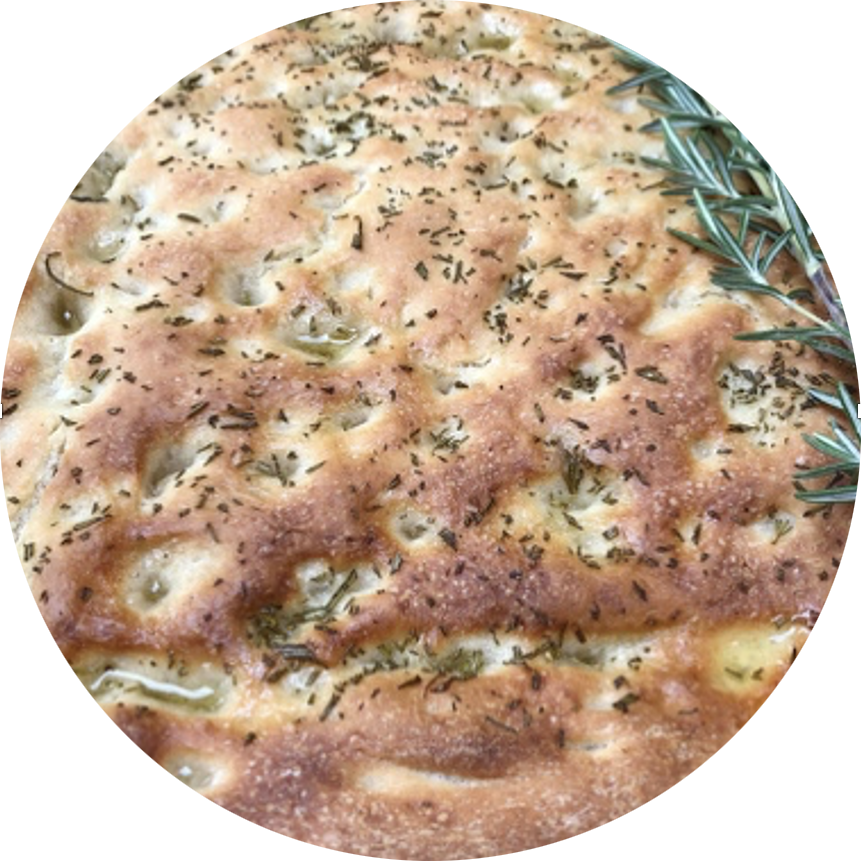 Starters Menu
Chargrilled Aubergines with rosemary and chili
Thinly sliced aubergines chargrilled and dressed with white wine vinegar, finely chopped rosemary, garlic and a little chili and extra virgin olive oil.



Roasted mixed Peppers with anchovies and capers 
Peppers chargrilled and dressed with garlic, fresh thyme, capers from my mum's garden in Massaciuccoli, Lucca and anchovies.



Caponata
The traditional sweet and sour Sicilian dish of Arab origins made with deep fried aubergines dressed in a sauce of tomatoes, basil, green olives, celery, capers, pine nuts, currants and basil
 freezable


Betti's Peppers
Roasted red peppers stuffed with very creamy feta cheese, capers, parsley and fresh mild chili


Panzanella
(A traditional Tuscan summer salad made with bread croutons baked in the oven with extra virgin olive oil and Sicilian oregano, fresh British tomatoes, cucumber, red onions, capers, red wine vinegar and plenty of basil and extra virgin olive oil).


Stuffed Courgettes  
This is my  mum's recipe. The courgettes are stuffed with beef,parmesan, parsley, thyme and garlic before being baked on a sauce of fresh tomatoes,  olives and basil. Seasonal and summery starter.

Cannellini and North Atlantic Prawns
Salad with roasted red peppers, spring onions and parsley, dressed with lemon juice and extra virgin olive oil


Rosemary focaccia
Homemade focaccia topped with fresh rosemary and sea salt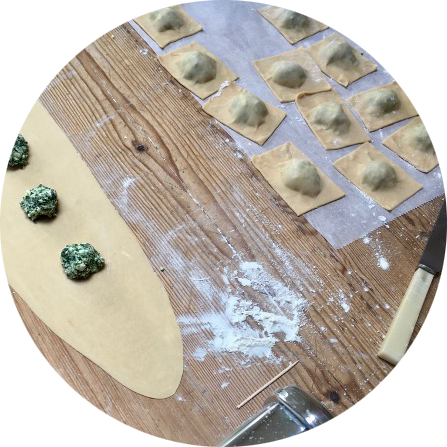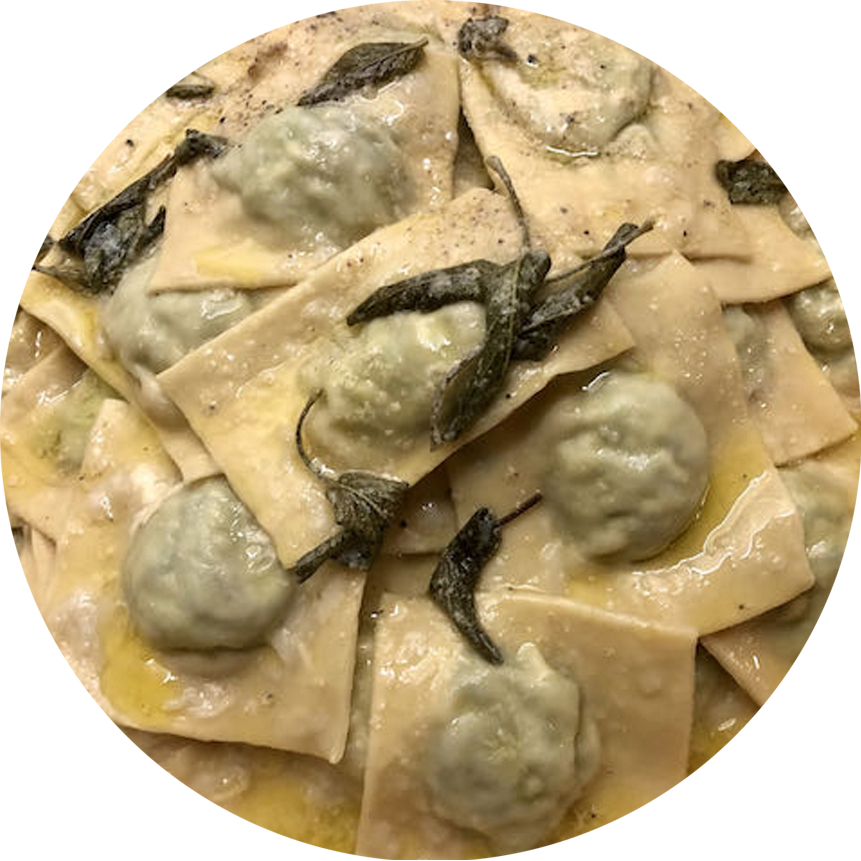 Homemade Raviolis Menu
Homemade Ravioli  with Peas, Ricotta and Fresh Mint
These homemade ravioli are absolutely in tune with the spring. The peas and ricotta filling is in credibly sweet and goes very well with the Parmesan cheese and the fresh mint.

Homemade Ravioli with Prawns
Homemade ravioli filled with North Atlantic prawns sautè in white wine, parsley and garlic and potatoes.
Homemade Ravioli with Spinach and Ricotta
Homemade ravioli filled with ricotta and parmesan cheese, nutmeg and spinach.
Homemade Ravioli with Pumpkin and Amaretti Biscuits
A traditional recipe from the city of Mantua, these Moorish ravioli are filled with roasted pumpkin, sage and a  sprinkle of amaretti biscuits.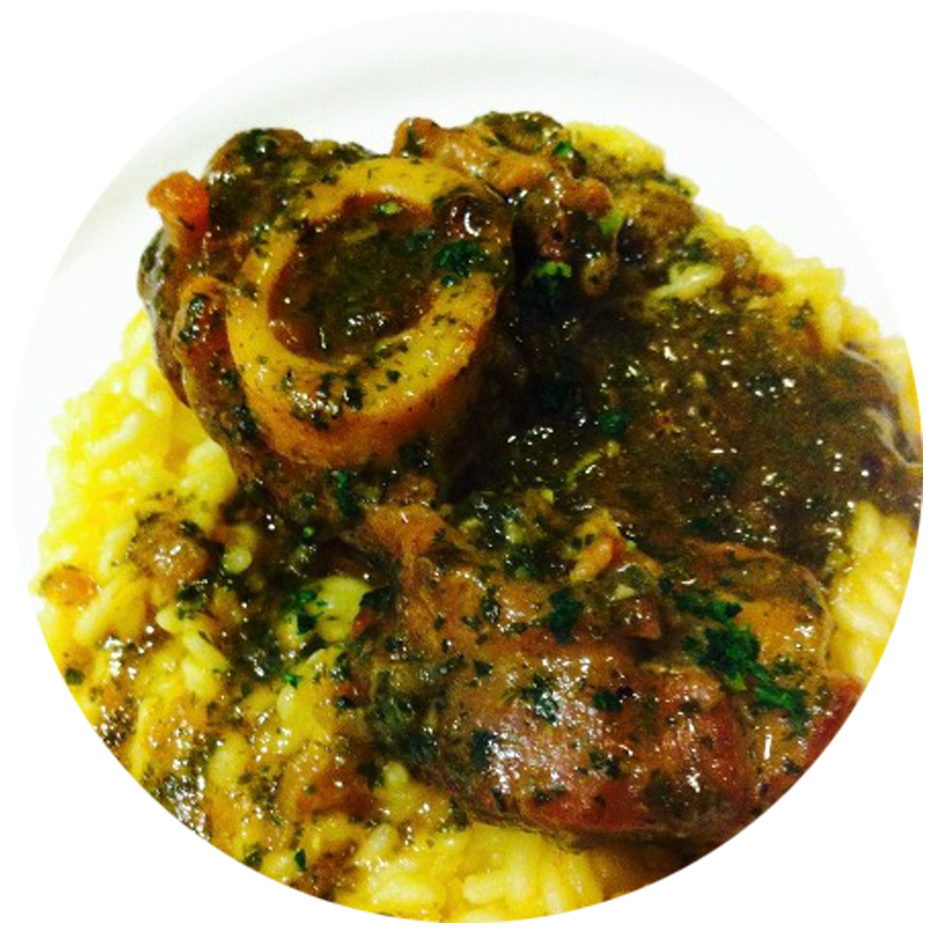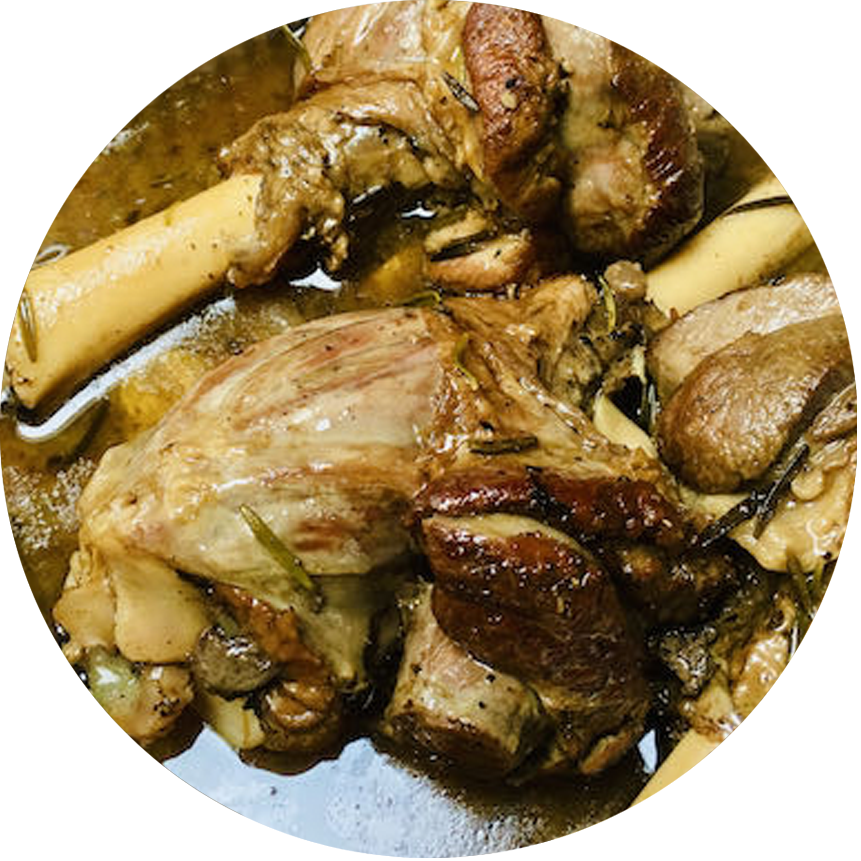 Main Meat Menu
Veal Ossobuco The classic dish from Milan, made with veal shanks braised in white wine and finished with a gremolata of parsley and lemon rind. Served on a bed of saffron risotto.
Simply Roasted Fillet of Scotch Beef
Simply roasted fillet of beautifully tasty and tender Scotch Beef. It comes as a whole piece  already roasted medium rare (or you may state your preferences) with a red wine and dried porcini mushroom jus.  All you have to do is reheat it for 5 to 10 minutes in the oven and rest it a little before carving. It can come  with a rocket and parmesan cheese salad in a balsamic dressing and   rosemary roast potatoes.


Braised Lamb shanks "Al Rosmarino"
Lamb shanks slowly braised with white wine, fresh rosemary and garlic. The meat falls off the bone, this is the ultimate comfort food.
Tuscan Style Chicken in White wine and Fresh  Herbs Gluten Free
A whole free range chicken leg roasted in white wine, garlic, thyme, rosemary and sage and served on a bed of rocket and cherry tomato salad and rosemary roast potatoes.


Traditional Beef Lasagna or Angus Beef Short Rib Lasagna
Lasagna filled with a homemade Bolognese sauce or a ragout made with Angus Beef Short Ribs, béchamel sauce and plenty of Parmesan cheese.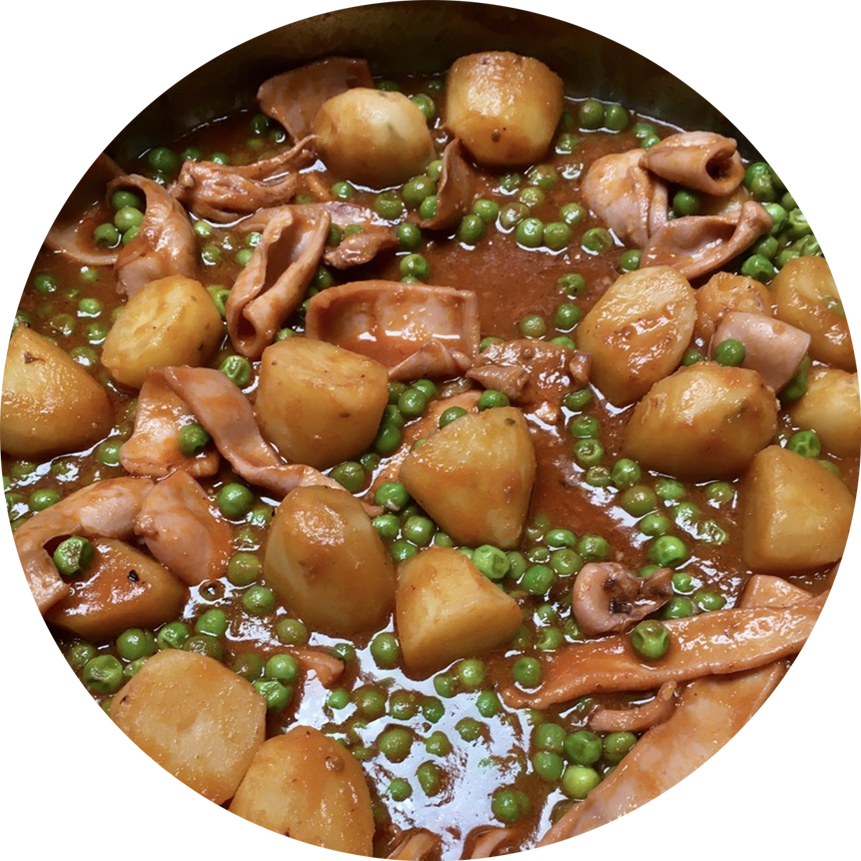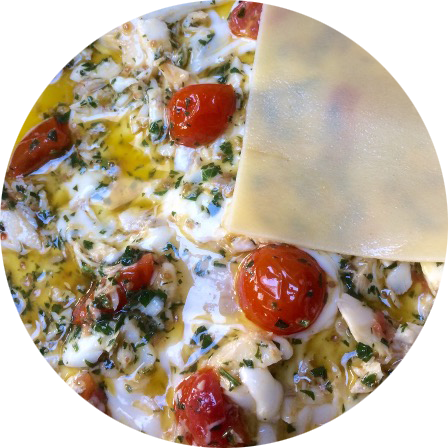 Main Fish Menu
Sea Bass, Rosemary Roast Potatoes and Salsa Verde
 Two  Sea bass fillets coated in parsley and garlic and roasted on a bed of rosemary potates and cherry tomatoes. Served with  a homemade salsa verde made with parsley, basil,mint, gherkins, anchovies, capers and garlic.
Salmon en Croute  with peas, ricotta and mint
Fillet of Salmon topped with a purè of fresh peas, ricotta and fresh mint  and wrapped in puff pastry. Served with a homemade salsa verde made with parsley, basil,mint, gherkins, anchovies, capers and garlic
Seafood Lasagna Homemade Lasagna filled with layers of béchamel sauce topped with seabream and North Atlantic prawns sauté in garlic, parsley, white wine and fresh tomatoes.
Suitable for home freezing
Seppie con i piselli (Wild North Atlantic Squid with peas and potatoes)
Very tender and sweet North Atlantic wild squid slow cooked in a garlic, white wine, parsley and tomato sauce with added garden peas in the last half hour of cooking time and potatoes. This is a very traditional Italian dish enjoyed by people in most regions. It's usually eaten with good crusty bread to soak up the juices but goes also very well with some mash potatoes.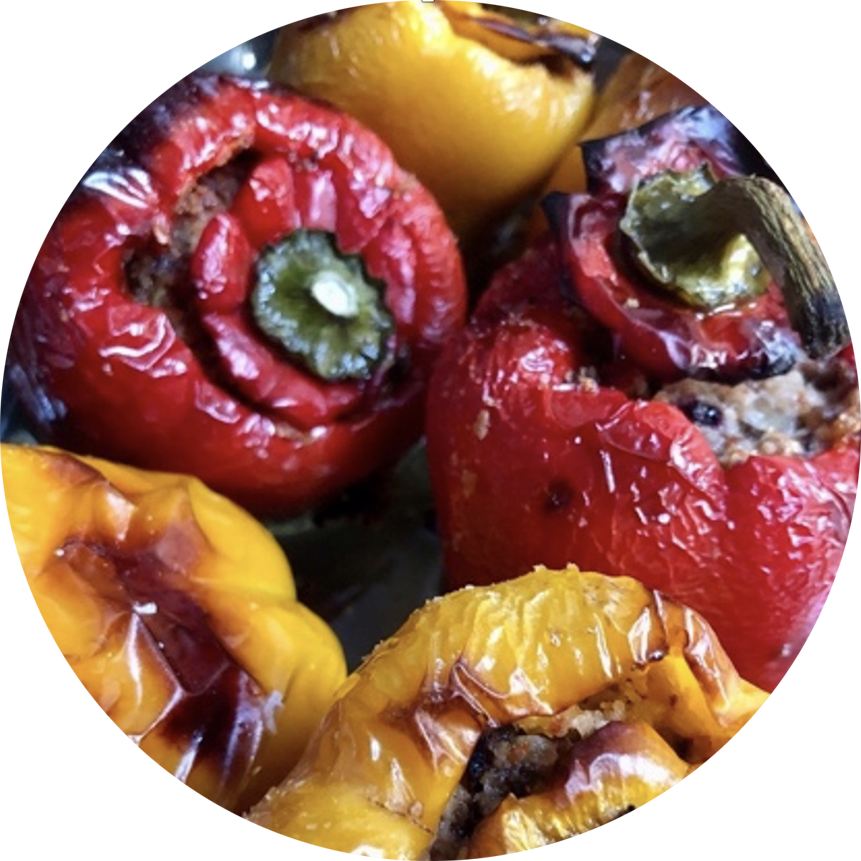 Mains Vegetarian & Vegan Menu
Aubergine Caponata and Butternut Squash  Strudel
Vegan Puff pastry filled with a layer of butternut squash , previuosly sautéed in shallots, sage, white wine and extra virgin olive oil, and aubergine caponata made with fried aubergines, tomatoes, olives, pinenuts and currants. Served with a homemade salsa verde made with basil, parsley, mint, garlic, gherkins and capers.
Peperoni ripieni alla Siciliana Sicilian Stuffed Peppers
Sweet peppers filled with breadcrumbs, olives, capers, sundried tomatoes, pinenuts, currants and basil and baked in the oven on a tomato, olives and basil sauce.
Vegan Aubergine Parmigiana
The classic Italian aubergine bake made with aubergines, basil, tomato, garlic, sundried tomatoes, breadcrumbs and pinenuts. This is a very tasty dish, not second in flavor to the Classic Parmigiana.
Classic Aubergine Parmigiana
The classic Italian Aubergine Bake made with grilled aubergines,  tomato and basil sauce, mozzarella and plenty of parmesan cheese.
Mushroom Lasagna
Very delicate Lasagna filled with layers of béchamel sauce, a sauce of dried porcini and chestnut mushrooms and big slices of  sauté Portobello mushrooms, with plenty of 30 months matured Parmesan Cheese. A real mushroom feast!

Pesto and Asparagus Lasagna
Lasagna filled with béchamel sauce, plenty of Parmesan cheese, homemade pesto and fresh asparagus. Suitable for home freezing Minimum order 4 portions
Courgette Tart
A very delicate and light Tart from Parma made with lots of courgettes and onions, delicious ricotta cheese and plenty of parmesan, wrapped in homemade shortcrust pastry.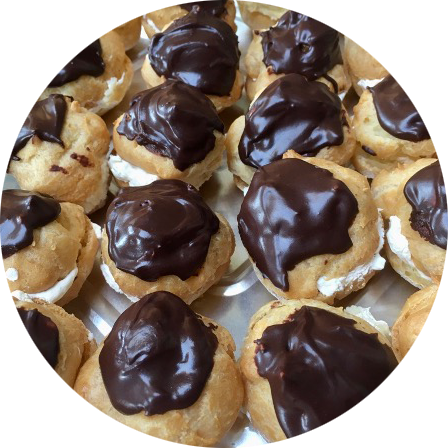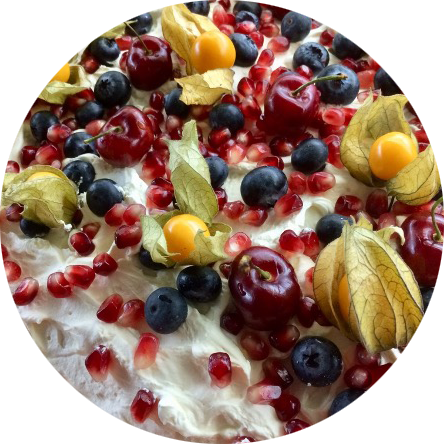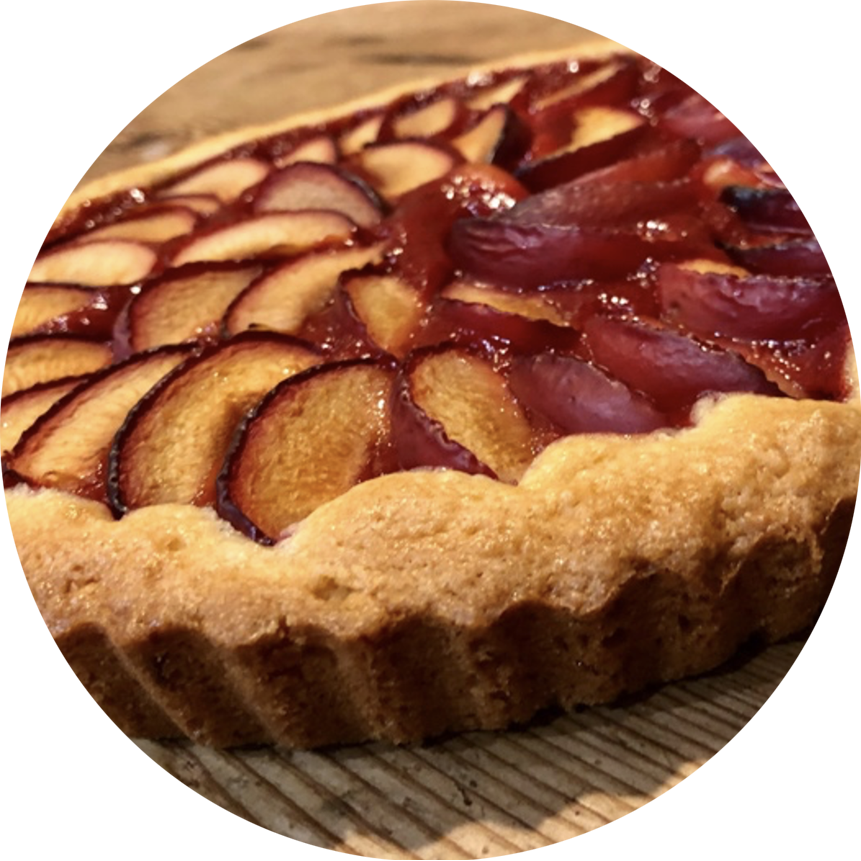 Desserts Menu
Celebratory Pavlova
Two squares of homemade meringue filled with whipped double cream, toasted almond flakes, a raspberry coulis and plenty of seasonal fruits, from figs to physalis or  pomegranate to blueberries, cherries, redcurrants, strawberries…depends on season and on your taste.

Homemade Profiteroles
Profiteroles filled with Chantilly cream and topped with dark chocolate.
Crostata di Frutta
A classic Italian fruit tart made with seasonal fruit, this one is with fresh nectarines and homemade plum jam
Tiramisù
The classic Italian dessert made with mascarpone cheese, coffee and savoiardi biscuits.
HOMEMADE ITALIAN BISCUITS
Perfect with sweet wine or coffee and make a lovely gift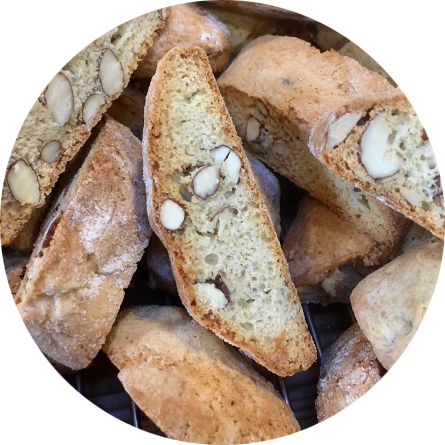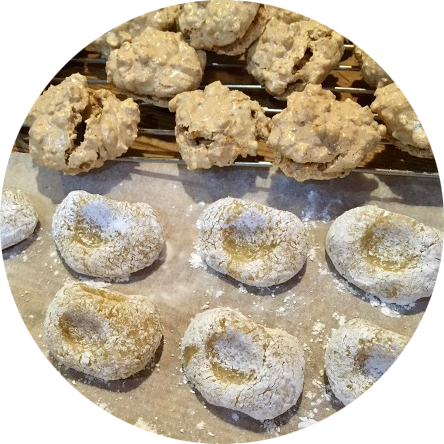 Homemade Italian Biscuits Menu



Paste di Mandorle Sicilian Almond Biscuits 
The famous Sicilian biscuits made with freshly ground almonds, sugar and egg whites and coated in icing sugar. Sicilians  are very fond of these soft biscuits and they often give them as gifts.  They are  sweet, nutty and truly irresistible.


Cantucci Tuscan Almond  Biscotti
The well known Cantucci from Prato, Tuscany, these are made with whole almonds and a splash of Vin Santo.

Brutti ma Buoni Piedmontese Hazelnut Biscuits
These are just Hazelnuts Heaven! These biscuits from Piedmont  made with just crumbled toasted hazelnuts, sugar and egg whites have a very sophisticated taste.


To place an order or make enquiries,
please send an email to info@bettisfood.com
or call Betti on 07813171050.
THANKS!